[vc_row][vc_column][vc_images_carousel images="331,332,333,334″ img_size="1920×450″ onclick="link_no" speed="4000″ autoplay="yes" hide_pagination_control="yes" hide_prev_next_buttons="yes" wrap="yes" css_animation="fadeInLeft"][vc_column_text]"WOOLTEX" on Biebrza is a manufacturer of quilts and pillows. The company has been on the market continuously for over 40 years. In 1994, we expanded our business to the production of silicone comforters, pillows, sleeping bags and bedspreads.
Our products are filled with natural sheep wool as well as anti-allergic siliconized polyester (HCS) fibers. Our production technology consists in thermal welding of fibers, thanks to which our products are safe in washing, and are not subject to deformation. The outer cover is made of fabrics: cotton, microfiber, polycotton, microprint, polypropylene fibers, satin and a number of other domestic and foreign fabrics.
All our products have the required attestations for fillings and external coverings.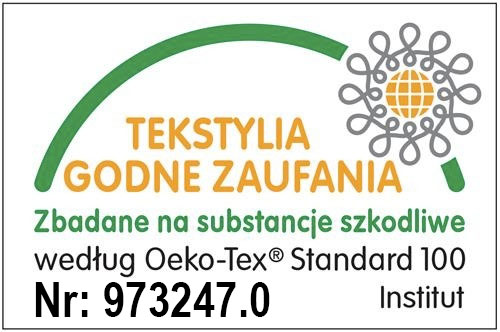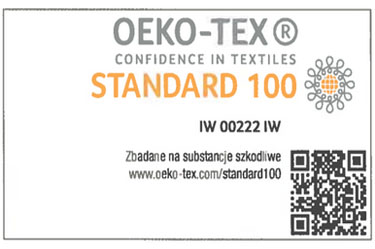 In addition to standards, we also carry out individual, non-standard orders.
We offer a computer quilting machine. We can quilt different fabrics with the possibility of a very large number of designs. The ecological region of our production – the Nadbiebrzański National Park – ennobles us to produce, especially Polish, ecological products of good quality. We manufacture in Poland using state-of-the-art technological solutions.
[/vc_column_text][/vc_column][vc_column]
Serdecznie zapraszamy do zapoznania się z naszą ofertą oraz do współpracy.
[/vc_column][/vc_row][vc_row][vc_column width="1/3″][vc_single_image image="190″ img_size="320×220″ alignment="center" style="vc_box_outline_circle" border_color="sky" title="Cutting trimmings"][vc_column_text]Our company has enriched machine park with a machine enabling cutting of trimmings on the slant of material at 45º. In our workshop, we cut various types of fabrics, polyesters, knitwear and other materials in this way.
The guarantee of flexibility of the final product is the use of a special, oblique cut. We carry out the entrusted work based on advanced machinery and knowledge and many years of experience of our employees. In this way, we can provide our clients with equal trims made in accordance with the order placed. We provide the service comprehensively and quickly, while maintaining the highest quality standards. Deciding to cut the trimmings through us, you ensure the perfect match of the material to the finished product.
We offer a material cutting service:
Slant 45 °
Straight
Crosswise and on the thread line
During scrolling (paper, foil, reflective foil, etc.)
We cut, among others:
Satin, satin, lining, organza
fiseline
knit
and many other
[/vc_column_text][/vc_column][vc_column width="1/3″][vc_single_image image="191″ img_size="320×220″ alignment="center" style="vc_box_outline_circle" border_color="blue" title="Silicone granulate"][vc_column_text]Silicone ball, manufactured from the highest quality original silicon polyester (HCS) fiber. It is perfect for filling up pillows, upholstery and toys. During production, these fibers are formed into "loose" balls with a diameter of about 0.5 cm. The fiber balls have an empty channel on which the air moves freely, which gives the balls PULSURE and SPRING. The granulate perfectly adapts to our head during sleep, giving a comfortable support for the neck and head. Our silicone balls provide excellent air ventilation so that the head does not sweat while sleeping and does not absorb moisture.
As a direct filler manufacturer, we have an impact on its quality, which allows us to offer higher elasticity and fluffiness.
The advantages of silicone granulate:
it adapts perfectly to the shape of the body
softness
lightness
downiness
high crush resistance
possibility of washing (recommended up to 40 ° C)
product for allergy sufferers
[/vc_column_text][/vc_column][vc_column width="1/3″][vc_single_image image="192″ img_size="320×220″ alignment="center" style="vc_box_outline_circle" border_color="blue" title="Bamboo Line"][vc_column_text]Bamboo is a very interesting plant also the fiber obtained from it has unique features. The cover of a duvet and a bamboo cushion is usually made of a fabric with a mixed composition made of natural cotton combined with bamboo cellulose fibers. Bamboo fibers in the fabric of the product shell are characterized by a four times greater moisture absorption than cotton, and thus provide better moisture and water vapor transmission during sleep. Thanks to the thermoregulatory properties of the fibers used, bamboo quilts are perfect in summer and also have a very good reputation among users with excessive perspiration. Bamboo blankets are produced in all sizes, in all-season thermal variants and a particularly recommended ultralight variant for the summer.
Why bamboo?
– a product recommended for people prone to allergies
– bamboo has natural antibacterial properties
– Bamboo is a 100% natural fiber and as a rule, grown without the use of pesticides and toxic substances;
– bamboo naturally "repels" dust and dirt
– bamboo fabrics are cheaper than cotton ones
– bamboo with softness, softness and perspiration properties, matches the cotton
– bamboo has natural thermoregulation properties (in summer, the bamboo surface maintains a temperature lower by 3 degrees Celsius than the ambient temperature – bamboo is "eco"[/vc_column_text][/vc_column][/vc_row][vc_row][vc_column width="1/3″][vc_single_image image="272″ img_size="320×220″ alignment="center" style="vc_box_outline_circle" border_color="blue" title="Wypełnienie typu Ovata"][/vc_column][vc_column width="2/3″][vc_column_text]Our machine park has grown by a machine for the production of high-fluffy, silicone nonwovens. Nonwovens are mainly used in the production of quilts, textiles, upholstered furniture and mattresses. The most modern technology, the application of innovative solutions allows us to produce the highest quality nonwovens whose quality meets the most stringent consumer requirements.
Manufactured from silicone fibers combining antiallergic properties and the highest usable properties. This nonwoven is a combination of delicate, thin silicone fibers having air channels – hollow – in which air accumulates. They provide high thermal protection parameters, give elasticity with simultaneous relaxation and softness. Products using this raw material composition can be machine washed without the risk of losing its original properties.
We manufacture nonwovens with a weight of 80-500g / m2[/vc_column_text][/vc_column][/vc_row][vc_row full_width="stretch_row" css=".vc_custom_1528492676251{border-radius: 1px !important;}"][vc_column][vc_wp_text title="Our partners:"][logo-showcase id="389″ title="Our partners:"][/vc_wp_text][/vc_column][/vc_row]